What is Sale Deed in Kerala real estate property/flat/building transactions?
A Sale Deed is a document that transfers ownership of the property by way of sale. Typically, a Sale Deed is executed after the compliance of the various terms and conditions detailed in the Sale Agreement or Agreement for Sale.
The word "SALE DEED" otherwise called as "Conveyance Deed" is a legal written document executed by the vendor and the purchaser which evidences the sale and transfer of ownership of the tangible immovable property.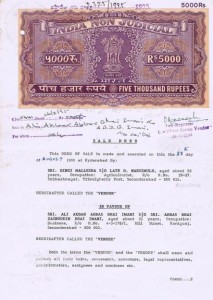 A sale deed in Kerala is governed by the Transfer of Property Act and the Registration Act, 1908 and is an important document for both the buyer  and the seller. A sale deed is executed, usually, after the execution of the agreement to sell, and after compliance of various terms and conditions between the seller and the purchaser mutually.A sale deed is the main document which gives details of how the seller got the property, at what consideration the seller is selling the property and assurance to the purchaser that the property is free from any encumbrances, liabilities or indemnity clauses. A sale deed acts as an essential document for the further sale of the property by the purchaser as it establishes the proof of ownership of property.
An absolute sale deed must contain the names, age and respective addresses of parties to the transaction and both the parties i.e. seller and buyer must be competent to enter into a contract so that it will not affect the validity of the valid sale. It is very much important that the sale deed is duly signed and executed by both the parties with their bonafide intention. A valid sale deed must start with clear description of the parties.