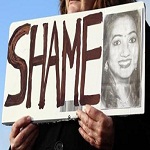 Savita Halappanavar, a young Indian dentist had died in Ireland on 28th October, 2012. She was 17 weeks pregnant and had suffered a miscarriage but her doctors refused to carry out an abortion which leads to Septicemia and she succumbed to it.
Ireland, being a dominant Catholic country has an official ban on abortion which is mentioned in its constitution. But in 1992 the Supreme Court of Ireland had ruled that abortion should be carried out if the life of the woman is at risk. There was a major confusion over this rule which had left the Irish hospitals reluctant towards carrying out abortions except in cases where high and obvious risk of life is involved.
It has been 20 days since her death and protests are still raging in Ireland. Her death has lead to a widespread concern over the issue both in Ireland as well as in India.
In India, The Medical Termination of Pregnancy Act, 1971 legalizes abortion until the 20th week of pregnancy and thereafter only if the mother's life is at risk.
There is now calls for a change in the Act so that a woman gets the right to get her pregnancy terminated if some anomaly is detected which could turn out to be life-threatening to the child after birth.
The Central Government of India had formed a committee to invite recommendations for an amendment in the MTP Act so that problems over the issue could be solved. But the Government could not yet implemented any amendments as it might conflict with the Pre-natal Diagnostic Techniques Act (PNDT).
After Savita Halappanavar's death several doctors have begun to express their concerns over the issue.