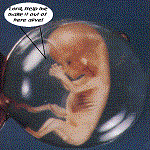 An Anti-abortion protester who won the right to display pictures of aborted fetuses at a busy intersection can collect the lawyer's fees from the local officials, ruled the Supreme Court on Monday. Though the ruling is concerned only with legal fees it could probably strengthen the spirit of the protesters who usually clash with the police or city officials.
This ruling gives right to the protesters to force the officials to pay them their legal costs if they go to the court to present any claim. This High court decision also makes clear the law also applies to anti-abortion protesters who sue and win constitutional claims. Many Pro-life activists support this ruling of the court by saying that by the projection of these kinds of photos in the public they aim to shock the conscience of the public to the horrors of abortion.
Thus, the ruling gives the protesters the right to hold up photos of fetuses in public. However, Police can make sure that the protesters do not move into the street and obstruct the free flow of traffic. The court returned the case to the judge to decide on reasonable attorney's fees.
Anti-abortion protests heat up in US
Nissy Ann Mathews,
D.E.S LAW COLLEGE
PUNE