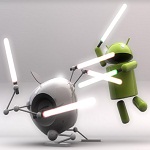 Apple seeks for more infringement claims over six more on Samsung products like Galaxy Note II. It has added spark to the multibillion-dollar lawsuit of Apple against Samsung.
Apple says that Samsung products that run on the latest Android "Jelly Bean" operating system and the previous Android "Ice cream sandwich" operating system have to be attached to the case, which is being filed in the Federal Court in San Jose, California.
These claims are part of the second case between the two mobile-device giants. Samsung is directing the suit towards Apple's iPad, iPhones and iPod touch devices while Apple has tagged more than 20 Samsung devices in the suit.
In a previous lawsuit which went to contest in July, a jury found that Samsung infringed six of seven Apple's issued patents and had ordered to award $US I.05 billion in damages.
Also read : Apple violated patents again
Nissy Ann Mathews,
D.E.S LAW COLLEGE
PUNE