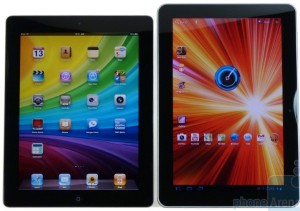 United States appellate court on Friday supported Apple Inc in the process of blocking Samsung Electronics from selling Smart phones and tablets. In the hot patent dispute the court heard the arguments on whether the federal high court judge's ruling  that there is no sufficient evidence to prove that Samsung's galaxy has  made an infringement of  Apples patent is correct or not.
The judges react to a premise made by Apples lawyer Michael Jacobs that for the need of getting the injunction there is no need for apple to show a causal link between patent infringement and loss of customers in a questioning way.
According to Michael Jacobs it is enough e to prove that Samsung had infringed Apple's Patent rights over the i phones and that apple is likely to get affected by this.
The trial of Apple vs Samsung dispute is scheduled to be held in the month of July in the federal court of California.
Further according to Michael Jacobs Apple is seeking an immediate injunction as even if it wins it will not get the benefits until late 2012.
The two companies are entering into legal battle worldwide and are filing suits in almost 10 countries in the process of their struggle for market share in the tablet and smart phones market.
You may Read : US Judge sided Apple in its suit against Samsung