Malala Yousafzai speaks at United Nations for Human rights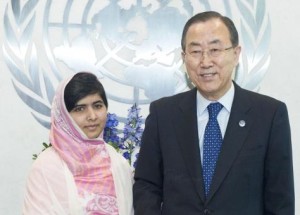 Malala Yousafzai an individual to be honored by every single sole on earth for her early activism and courage. Malala the young girl from Pakistan spoke at UN General Assembly on Malala day (i.e. on 12th July) raising her voice against illiteracy, poverty and terrorism. Her words were thought provoking to gathering giving a new line to education activism. Malala mention herself not as a girl shot by Taliban but the education activist who knows the importance of light as she has seen the darkness.
United Nations declared July 12 as Malala Day
Malala Yousafzai born on 12 July 1997 at swath valley became a known character when she wrote a blog under pseudonym for the BBC, about the life of children under Taliban rule, and her movement at swat for inspiring the female children to acquire education which called for danger to her life on October 9th 2012, when she was shot by Taliban. Malala after her recovery from Queen Elizabeth Hospital in UK spoke to the world on Malala day at UN sharing her thought and ideas inspiring the world by her words. The girl who is inspired by the great legends like Martin Luther King, Nelson Mandela, Muhammad Ali Jinnah Gandhi, Bacha Khan and Mother Teresa spoke about her views on non violence and existence of a peaceful state. She also highlighted about the poverty in Africa, terrorism in Pakistan and Afghanistan, extremism in Nigeria, child labor in India and Poverty, ignorance, injustice, racism and the deprivation of basic rights are the main problems, faced by both men and women and theses situation can be changed only through the spread of education, And the global education policy 2015 will be support to this.
Malala at the age of 16 has achieved numerous numbers of national and International Award and also honoring by different entities. She is also youngest nominee for Nobel Prize in history. 12th July was declared as Malala day by UN General Secretary Ban ki- Moon  supporting her to fight for education and describing her as the "global symbol" to achieve the same.
The phrase enlightening Malala day, "the day of every woman, every boy and every girl who has raised their voice for rights" and the last quote "let us pick up our books and our pens; they are the most powerful weapons. One child, one teacher, one book and one pen can change the world" by her calling the people out in universe flourished the youthfulness in young blood to resolute for right education.