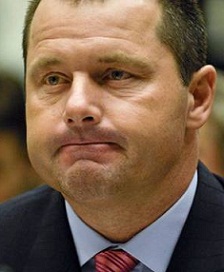 After four gruelling rounds of cross examining Roger Clemens attorney is beginning to take down Brian McNamee's credibility one step at a time. Previously McNamee claimed that after a steroid shot in Clemens apartment he put the needle the cotton the syringe into a beer can. Now after thorough cross examination he has modified the story to he may have put the evidence of steroid use of other players also into the same can. Clemens attorney Hardin has worked hard for the last four days to paint McNamee as a serial liar and a person who will say anything to keep out of trouble. He painted him as a stooge of the government investigators who were determined to ruin the reputation of Roger Clemens.
In a bid to reinstate the wavering credibility of the former trainer prosecutors have hatched the plan of showing that McNamee had also provided equal evidence of the substance abuse of other players and was not personally biased against Clemens himself. The government's case hangs on the credibility of their only witness of the drug abuse of Roger Clemens. Therefore this negative image of McNamee if not reversed as soon as possible will deal the death blow to the government's case. The syringe cotton balls and needles all of which if tested for DNA will show enough evidence has not yet been authenticated for the jury by the scientific experts. Hardin further inserted another piece of news which added further injury to McNamee's reputation in the eyes of the jury was that McNamee used his newfound fame to make a quick buck by hastily penning an autobiography, promoting a sports brand on YouTube and appearing on the Howard Stern radio show.
At the end of the day the government case hangs in the balance if the jury loses their trust in the principal and the singularly most valuable witness that they have McNamee. And as it stands now it seems as though Hardin, Clemens attorney has picked enough holes in the charade of a reputation of McNamee to reasonably bring doubt into the minds of the jury.