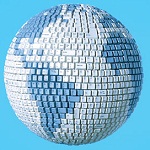 The Karnataka State Law University is adopting a new method of sending examination question papers to the colleges in its affiliation. The new method, as reported would be uploading the question papers on Cloud computing to avoid physical means which has often lead to third-party interference and thus its leakage.
Question Paper leakage is often a major issue faced by various Universities in India. Universities usually frame the question papers and send them to third parties for printing and transportation which often makes way for its leakage. In many cases printing press staff or transport staff and even the college staff workers were found to be indulging in such acts. Leakage of question papers often leads to a bad impact of postponing examinations which always distracts students countrywide.
Thus, Karnataka State Law University has decided to upload question papers on cloud computing few minutes before the examination. Colleges can download the question papers and Xerox them for extra copies and distribute to the students. So, students need not worry about leakage of questions and postponement of examinations.
According to the officials, this method would be implemented from the next academic year and is hoping to be the best alternative to the existing means.
Cloud Computing method in Law Universities
Nissy Ann Mathews,
D.E.S LAW COLLEGE
PUNE