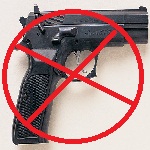 The mayors of US cities, from Newtown to Chicago and New York, called on Obama through letters to push for tougher gun laws. The letter reads: "Again and again and again, Americans are stunned by senseless acts of violence involving guns. Friday's tragedy targeting young children in Newtown is incomprehensible. Too many times this year, mayors have expressed shock at a mass shooting. Even more frequently, many of us must cope with the gun violence that occurs on the streets of our cities."
Israel voiced its own support to the gun ban. As it is not illegal yet very difficult to own a gun in Israel, It is now almost impossible for any civilian to keep more than a single gun at home. The sale of assault weapons is a big NO too. Soldiers which are seen on the street with machine guns are the only spectacle of gun-kinds even as the guns are not loaded. the government doesn't favour the:"each men, one gun" policy by which Americans are living with and so are they living with most shootout massacres than any country. Even weapons acquired through inheritance are severely restricted here. "There is no right to own firearms in Israel," Amit said, a 25-year veteran of the Israeli army. "It is a privilege we sometimes allow." it seems like Americans are divided by the idea of gun ban. Most times, other nations follow the superpower, this time, the states is following some other "better" solutions.
Twenty-six people were killed at Sandy Hook Elementary School Friday by gunman Adam Lanza. Earlier in the day, Lanza had also killed his mother, and later killed himself. Even as Ann Curry of NBC News has been performing 26 acts of kindness in honour of the Newtown shooting victims, The National Rifle Association vowed to see to it that "such ghastly murders" are over forever and ever. Explaining their days of silence since the shooting, the NRA wrote, "Out of respect for the families, and as a matter of common decency, we have given time for mourning, prayer and a full investigation of the facts before commenting." Most students returned to classrooms Tuesday in Newtown, Connecticut. Julie Shull, Reed Intermediate School teacher said, "We are ready to open our doors and give them everything they need to feel safe".
With tweeter flooded with messages from around the world in favour of the new gun ban resolutions, Obama also showered his support by backing the to-be passed new gun ban legislation. He also prayed for the departed souls of innocent children. An American patriot tweeted earlier, "Teachers stood up to the gunman in Newtown, CT. Congress needs to stand up to the #NRA and pass sensible #Gun Control legislation NOW! #guns".
Gun laws to prevent another Newtown
Shalini Singh,
Gujarat National Law University,
Gandhinagar, Gujarat