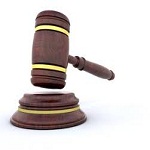 The Lucknow bench of the Allahabad High Court, on Monday dismissed the Public Interest Litigation (PIL) which challenged the Uttar Pradesh government's decision to refuse to initiate prosecution of Smt Mayawati, UP Chief Minister in the Rs 17 Crore 'Taj Corridor' scam.
It was in the year 2002 that Mayawati had launched a project to beautify the areas surrounding Taj Mahal for which Rs 17 Crore was granted and the project was started without any environmental clearance. The Supreme Court then had directed the CBI (Central Bureau of Investigation) to inquire into the scam and in 2007 CBI had stopped its enquiry when the government of Uttar Pradesh had refused to put Mayawati and her associates into trial.
The High Court, on Monday dismissed all the six petitions that sought the re-trial of the proceedings against Mayawati and Naseemuddin Siddiqui, her cabinet colleague.
The Bench that passed the order comprised of justices Imtiaz Murtaza and Ashwani Kumar Singh said that all the petitions in the case were devoid of merit and hence dismissed accordingly and the Court delivered a 74-page verdict.
Nissy Ann Mathews,
D.E.S LAW COLLEGE
PUNE