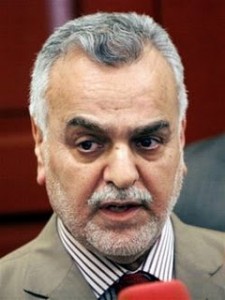 Vice president of Iraq Tareq al-Hashemi said that he will not return to Baghdad to stand trial on charges of inciting violence in the country. Al-Hashemi denies the charges and has moved to the Kurdish region of northern Iraq to avoid appearing at trial, which he claims will be biased against him.
Hashemi, holed up at an official guesthouse of Iraqi President Jalal Talabani in the country's autonomous Kurdish region, acknowledged his guards may have carried out attacks, but he has steadfastly denied any involvement.
Al-Hashemi's statement comes in response to a warrant issued last week for his arrest by Shiite Prime Minister Nuri al-Maliki Al-Maliki alleging that Al-Hashemi and his security forces carried out secret assassinations of political enemies. The warrant against Hashemi has been the focus of a political row between Shiite Prime Minister Nuri al-Maliki and the Sunni-backed Iraqiya bloc, which is a part of his national unity government and of which Hashemi is a member.
Protesters took to the streets in support of Hashemi, many alleging that the charges against him are politically motivated. The sectarian violence was ignited just days after the last US troops left Iraq, and threatens to disrupt the peaceful transfer of power.
US Vice President Joe Biden spoke with Maliki, expressing his condolences for last week's violence and discussing the political climate. The US ended its 9-year Iraq War earlier this month when the government officially declared the war at an end and withdrew its remaining troops from the country. The US also handed over the last detainee in Iraq, Ali Mussa Daqduq, to Iraqi authorities as part of the end of the war. US President Barack Obama had considered trying Daqduq on US soil, but were unable to come to an agreement with Iraqi officials and so transferred Daqduq to Iraq officials. Sectarian conflict arose almost immediately following the withdrawal of US troops, culminating in the last week's violence.
Iraq VP refuses to return to Baghdad to stand trial
Report by Radhalakshmi R