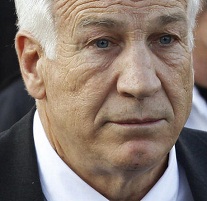 Jerry Sandusky, a former football coach has been found guilty by a jury, in 45 out of 48 counts of child sexual abuse. The whole saga began when the coach was accused of abusing boys who were under his care. The trial included testimonials from men aged between 18 and 28 who provided graphic details of the abuse. The saga of abuse spanned over 15 years, during which Sandusky used his position as a famous football coach and a member of a local charity to sexually abuse children.
The jury deliberated for over 20 hours and finally delivered a verdict, late Friday night. Sandusky will in all likelihood spend the rest of his life behind bars. The sentencing should be completed within the next 90 days.
"Today a jury did what so many other people and institutions failed to do — they held Jerry Sandusky accountable for sexually abusing children." said lawyers for Matt Sandusky, Jerry Sandusky's adopted son, who also had leveled charges against his adoptive father."  This jury broke years of silence about Sandusky's systematic targeting, grooming and abuse of children and finally delivered justice."
The lawyer for Sandusky claimed that the case was a situation where every witness was lying in court to convict an innocent man. She could not account for the insurmountable evidence piled up against her client, including personal testimonies, grand jury investigations and observations of co-workers. A few other co-workers and superiors have been indicted for perjury and failure to report instances of child abuse.