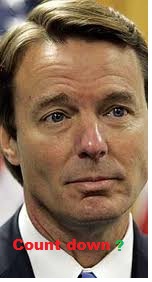 On the second day of testimony in John Edwards trial, the key witness against Edwards, Andrew Young said that he was really worried about the action of Edwards in using secret money to pay Mr. Edwards mistress, but n Edward assured him that the action is legal. He also said that after his assurance also he felt something wrong.
Andrew Young was awarded immunity from any kind of prosecution or testifying. On the first day of testimony the court heard that Andrew Young had contacted the other three witnesses and had discussed about the testimony they are going to make. This is regarded as a potential violation of federal law. He in his statement before the court had testified that the political star John Edwards himself had asked young to give the money to hunter. When she threatened him that she will expose the affair.
He further said that Rachel "Bunny" Mellon allegedly wrote checks for about $725,000 (£449,000) to her interior decorator, who then forwarded the same to Mr. Youngs wife for the purpose of counter signing it using her maiden name. He further said that Mrs. Mellon was ready to meet the expenses of Mr. Edwards.
John Edwards lawyers argued that the former US senator Edward did not know anything about the donations made by Mellon and had alleged that Mr. Young had pocketed most of the donor money and is using it for personal expenses, including a $ 1.5 m h.