Misappropriation of Disability funds by Indian Union Law Minister, Salman Khurshid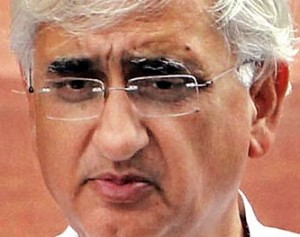 The latest news that hit most of us Indians is that of the act committed by the Union Law Minister, Mr. Salman Khurshid and his wife Mrs. Louise Fernandes. They were joint owners of a disability trust by name Dr. Zakir Hussain Memorial Trust. The issue regarding the misappropriation of the funds diverted towards the Disability Trust was brought to light by Mr. Arvind Kejriwal. 5 questions were posted by Mr.Kejriwal to Mr. Khurshid seeking answers to the alleged fraud activity of the trust run by them. The question posted was as follows:
a) The trust had requested more money for the activities conducted and presented a letter by the UP Government for the Central Government for release of the funds to meet up with the rising expenses. This letter bared the signature of Mr. Ramraj Singh, the then Special Secretary to the Up Government. But when Mr. Ramraj was inquired about the same, he denied his action stating that he had not received any letter from the UP Government or even signed it. The question that arises is how such a letter came into very existence and who forged MR. Ramraj Signature.
b) The second question is that, the trust had presented an affidavit presented by J A I Singh, UP Government's former Chief Development Officer, where it was brought to light that he was praising the organizations work. But when enquired about the same, he denied his actions for the very same.
c) On 12/06/2012 the Akhilesh Government after inquiry wrote a letter to Mr. Khurshid stating that the signatures presented in the reports before the UP Government were all forged.
d) It was claimed that your organization organized various camps for these disabled people and also distributed many equipments to the needy. But as per the inquiry conducted by the Akhilesh Government it's come to light that none of these were true i.e. no camps or equipments were distributed.
e) It's clear evidence given by the disabled people of the trust that no equipments were received by them as stated. To these many allegations brought to light before the people would you step down from your current position?
APARNA D. SHENOY
School of Law Christ University,
Bangalore