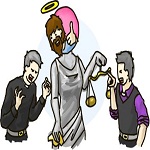 Family First NZ opines that the Human Rights Commission went legally wrong in the aftermath of the Marriage Amendment bill.
Mr. Bob McCoskrie, National Director of Family First NZ says that "Based on the interpretation of S 29 by the HRC and Louisa Wall a marriage celebrant could lawfully decline to marry a particular couple because they are of different races or the marriage celebrant disliked persons of a certain race. Of course, that is completely unlawful and would quite likely be a breach of s19 of the NZ Bill of Rights Act. Family First NZ obtained legal opinion from Barrister Ian Bassett which say that s29 of the Marriage Act 1955 does not give any authority to a marriage celebrant "
If the bill is executed in its current form then a marriage celebrant will not be able to decline to marry a couple by reason that the couple are of the same sex.