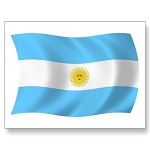 Some news about restriction and obstruction to press freedom,after all. With US granting full proof protection to the media, Argentina has proposed a law for SC to intervene in the matters of media law. A "per saltum," a mechanism that allows the highest court to step into cases even when they're being handled by lower courts is now been deployed in the Argentinean law system. It is a new development where many countries don't favour the higher courts interfering in the matters of lower courts.
an appeal was filed by Grupo Clarin which received the thumbs up from the lower courts that a three-year-old law against media monopolies is constitutional.
Justice Minister Julio Alak said that after clarin;s attempt to block the law it became a major legislative talk. , "The per saltum ultimately seeks not only for the Court to force the deadlines to be met, but also to rule on the constitutionality of a law that Clarin has ignored for three years and two days".
President Cristina Fernandez called monopolies the main problem and that they are pure evil. Media laws are changing day to day due to the progress in the field of information and technology, journalism has received favor from law in most of the issues everywhere. Such a twist in the tale could affect the foreign policies of Argentina with other counties, in good way and bad, both.
Shalini Singh,
Gujarat National Law University,
Gandhinagar, Gujarat