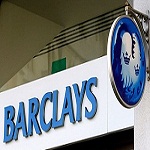 This year seems to be tough on the British banking giant, Barclays. It is now facing two fresh legal actions in the aftermath of the Libor scandal. The bank disclosed that it faced two new investigations by American authorities. One is an investigation on the bank's capital raising efforts during the financial crisis which is being investigated by the Justice Department and the Securities and Exchange Commissions. The other one is by the Federal Energy Regulatory Commission (FERC), which is investigating on the past energy trading activity in its American operations.
Unlike other banking groups, Barclays relied on state owned investments or sovereign wealth funds in the Middle East and Qatar to raise new capital during the financial crisis. It raised a total of $ 7.1 billion from Qatar. The British authorities are investigating the legality if the payments to Qatar investments and whether it has violated any anti- corruption laws in doing so.
The FERC issued an order to the bank to show cause why it should not pay a penalty of $ 470 million for manipulating the US energy markets. This order by the agency is to combat the manipulation of energy markets where trading in electricity is done. The Commission issued a notice saying that four Barclays' energy traders had conspired to involve in the manipulation of the energy markets in the US. The company and the traders have 30 days to respond to the notice.
The Bank's Chief Executive, Antony P Jenkins, stated that the bank is going through a tough time. Jenkins became the Chief Executive after the Bank agreed to pay $ 450 million to settle charges of rate- fixing of the London interbank offered rate or Libor.
Anjana Ravi,
NUALS