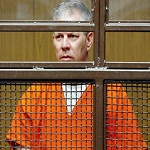 Nicknamed "Nails", Leonard Dykstra, the former New York Mets outfielder was sentenced by a federal court on Monday to 6 1/2 months in federal custody following bankruptcy fraud and other federal charges. With just days after Former Baltimore Orioles third baseman Doug DeCinces was indicted by a federal grand jury for insider trading, Lenny Dykstra, the man who could have faced 20 years but due to his lawyers polite representation and prosecutors recommendation of recommended 2 1/2 years following his guilty plea to three felony counts bankruptcy fraud, concealment of assets and money laundering, he was given the lenient punishment.
The star had reused his life with drugs and alcohol while doing some very serious money laundering and destroying and selling property that was part of the bankruptcy estate without the permission of the bankruptcy trustee. In the bankruptcy filing, Dykstra had listed assets of $24.6 million and overall debts of $37.1 million. During his financial slide down, the baseball star had admitted to have sold items from his mansion after creditors seize property.
With pleading guilty without much pressure to victimizing more than 10 creditors, and committing bankruptcy fraud by lying, there was remorse on the sober Dykstra, whose ex-wife and son had accompanied the proceedings. Not many fans were seen around to support the fading baseball star. Dykstra, 49, apologized for his actions and promised to turn his life around. It looked more like a promise to his wife and star son than the accusers.
Dykstra was also sentenced earlier this year to nine months in jail after pleading no contest to charge of indecent exposure to women while he is already serving a three-year state prison sentence in a GTA case.
"I don't think I'm a bad person," said Dykstra, who was in handcuffs and wearing a white prison-issued jumpsuit. "I made some bad decisions."
Baseball player Lenny Dykstra sentenced in federal bankruptcy case
Shalini Singh,
Gujarat National Law University,
Gandhinagar, Gujarat