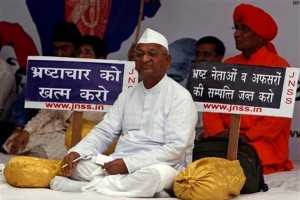 A day prior to Hazare commencing his fast against the unsatisfactory Lokpal Bill, the Government has asked him to wait for the results of the debated in the Parliament on the contentious anti-graft bill before he launches his protest.
Finance Minister Pranab Mukherjee has said that the Parliament should be left to decide what the shape of the bill would be as it is now under consideration in the Parliament.
Minister of State for Parliamentary Affairs Rajiv Shukla said "The Government has already piloted the Bill in Lok Sabha. It is a very strong and effective Bill. So, I think we will go by the decision of Parliament. Everybody will be deliberating upon that". Shukla also said that the Parliament is the body that should decide the final fate of the bill.
Hazare has announced a 3-day fast which is expected to be launched on 27the December in Mumbai to voice his protest over the "weak" Lokpal Bill introduced by Government in Lok Sabha. The very same day deliberations on the bill are anticipated in the Lok Sabha.
The Government is introducing both Lokpal Bill 2011 as well as amendment for giving constitutional status to Lokpal simultaneously due to which it requires both simple majority to pass the bill as well as 2/3rd majority for constitutional status.
The government will also push for the Public Interest Disclosure and Protection to Persons Making the Disclosures Bill, 2010 (also known as whistle-blowers Protection Bill).
UPA has the numbers in the Lok Sabha so it is under pressure to get it passed in Rajya Sabha where the UPA is in minority. The Opposition will have to face the blame if the bill fails to be passed as it may move smoothly in the Lok Sabha.
Team Anna had on Sunday shot off an open letter to Prime Minister Manmohan Singh and MPs wanting enactment of "real and best possible" anti-corruption law which should also provide for an independent investigative department for the Lokpal.
Lokpal Bill: Govt asks Hazare to wait for outcome of Parliament debate
Report by Radhalakshmi R