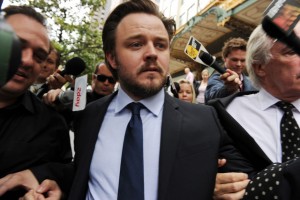 Actor Matthew Newton who was arrested for assaulting and was charged on trespassing and for resisting officer without violence at a Miami Bar on Saturday, will be banned from the United States if convicted.
According to Richard Sharpstein, who represented Wayne Carey for the 2007 Miami police assault case, only with the help of a skilled lawyer Mathew Newton's matter will be dealt quickly. Further according to Newton, being an Australian and a foreigner it still is a big problem as it will affect the immigration status and ability to travel.
Matthew Newton's Australian lawyer Chris Murphy d defended him by claiming that Newton did not drink beer and that.
The bar manager of Miami Bar, Jason said that Newton's friends had asked him to leave but had started resisting arrest and that he started hanging on outdoor tables. Further in the first instance Police had asked him politely to leave and by the end they were forced to tackle him. Newton further shouted at the cops and he further said that they prejudicial to Australians. According to Nixon Newton had consumed only one beer.
Actor Matthew Newton will be banned from US if convicted.
Later Matthew Newton was charged and released after $US2000 ($1940) bond was posted.