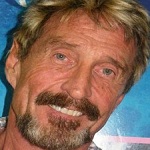 The magnetic software pioneer, John McAfee, looking haggard and tired, is facing deportation from Guatemala to Belize as the tech guru was arrested by the Guatemalan police and before he could seek asylum elsewhere. Interior Minister Mauricio Lopez Bonilla made a short official statement that John McAfee was detained by police with help from Interpol at a hotel in an upscale Guatemala City. A news report followed about the Silicon Valley millionaire getting heart attack. John McAfee's lawyers filed a request to the local court to grant him permission to leave Guatemala until his legal appeals against deportation have been settled. The news of McAfee killing his neighbors by illegally entering the country with his girlfriend caught fire. The lawyers are expecting a verdict soon in favor of America. With a blog, whoismcafee.com giving details of the billionaire on run, this is a real life fugitive or what?
Evading Belizean officials for nearly a month, the antivirus software chronicler said that he feared for his life and Belize's PM allegedly called him "paranoid and bonkers".  John McAfee said on Saturday that he wanted to return to the United States.  Guerra said he had filed a motion that would require Guatemalan authorities to deport him there and not to Belize. An asylum is granted to a person of some other nationality from the protection of the country he is facing charges in the country he is based in if the person is a patriot or a "person of interest".
John McAfee, who is a yoga instructor, and a person who used pseudonyms for setting up computers and logging in, and changes his IP address several times a day was termed as "a person of interest" in the whole affair.
Shalini Singh,
Gujarat National Law University,
Gandhinagar, Gujarat