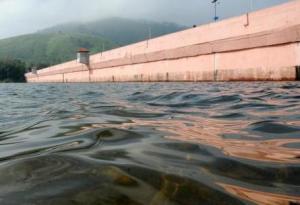 The founder-president of Naam Tamizhar Katchi (NTK), Seeman, was arrested along with 300 of his party men at Walayar on the Tamil Nadu-Kerala border for striking on the road voicing the demand that the Centre should without delay find a method to settle the row over the Mullaperiyar dam.
Seeman, who is also a well known actor-director of the Tamil film industry, disrupted the traffic by picketing on the Palakkad-Coimbatore highway along with his party men. The group raised slogans against the Kerala government and demanded the implementation of the Supreme Court decision.
The Supreme Court had ruled in favor of Tamil Nadu by allowing the storage capacity of the Mullaperiyar dam to 142 ft which the neighbouring state had not implemented.
The police said that the picketing on the road which caused traffics to stop for nearly three hours had to be eventually met with security arrangement.
In addition to the NTK partymen, police said, about 130 workers of Socialist Democratic Party of India were also arrested at the city railway station when they attempted to stage a "rail roko" to protest the Kerala's government's stand over the Mullaperiyar dam issue.
The protestors attempted to enter the station and block Kerala-bound trains, but were prevented from doing so, police said.
From the way the scenes have been unfolding, it appears that if a solution to the dispute over the dam issue is not reached at the earliest, there could be aggravation of the violence that has already been sought to by the people of both the states.
400 arrested following protests over Mullaperiyar
Report by Radhlakshmi R