Most of the states who have participated in the frameworks making are not satisfied with the proposition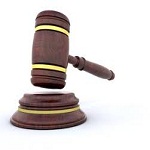 which can defy their constitutional rights and centralize the water resources sector.
Jharkhand Chief Minister Arjun Munda and Karnataka Chief Minister Jagadish Shettar said that the framework was not necessary and that if it is ever proposed, it should be based on providing broad guidelines rather than specific directions.
Kerala Minister for Water Resources P.J. Joseph asserted, "Any move that encroaches on the State's right to decide on water-related issues is not acceptable as there are several localized issues that cannot be visualized under a broad and uniform national framework. Expressing concern at the plan for legal framework, different states have different suggestion which if conjoined and looked would give the legal framework thumbs down.
The Centre's proposal of evolving an overarching national legal framework of general principles on water at the National Water Resources Council meeting was thus inconclusive.
Shalini Singh,
Gujarat National Law University,
Gandhinagar, Gujarat