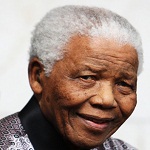 President of South Africa from 1994 to 1999 and 1993 Nobel Peace Prize winner, Nelson Mandela, 94 had been admitted in hospital. His health has been waning and so is his "sparkle" trademark, said Mandela's wife, Graca Machel. She didn't give any details but said that age was doing its black magic.
"I think he takes it in his strides, he has come to accept that it's part of growing old, and its part of humanity as such. At some point you will dependent on someone else, he has come to embrace it," said Mandela's grand-daughter Ndileka.
Defense Minister Nosiviwe Mapisa-Nqakula had visited Mandela on Monday and said the revered statesman was "doing very, very well". The presidency didn't give any statement as it was too early for an update.
On July 2001 Mandela was diagnosed and treated for prostate cancer. Mandela renounced from public life in 2004. In January 2011, frail and weak Mandela was admitted to the private Milpark Hospital in Johannesburg due to a respiratory infection.
Shalini Singh,
Gujarat National Law University,
Gandhinagar, Gujarat