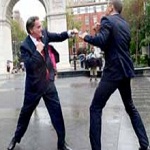 Barack Obama in his campaigning of US Presidential election over the past few months had released plenty of advertisements claiming Mitt Romney to be a pioneer in outsourcing. His outsourcing ads are helping him win states like Ohio which is a densely populated state in US. This could determine the U.S presidency.
The advertisements are spread mostly in depressed industrial and farm states so that it could be aimed at portraying Romney as a person with less empathy for workers. The reports say that though the ads ran everywhere they had more effect in the Rustbelt.
Tracking polls show that throughout the country Obama has received the support of only 30% of white working males whereas in Rustbelt states like Ohio it is higher. This is so because Ohioans are against outsourcing. Obama has spent $6.5 million already in Ohio on ad in the last five days of election.
This campaigning of Obama on anti-outsourcing has raised tensions among different companies that intake outsourcing jobs from the US. However different analysts on the issue says this is a very little issue of worry as it is only a talking point of the election year. It is well evident that in the past 4 years US administration has done practically nothing to curb outsourcing from the country. Analysts argue that the US public tends to associate outsourcing mostly with the loss of manufacturing jobs in China. Hence, it need not be a major concern for India.
Nissy Ann Mathews,
D.E.S LAW COLLEGE
PUNE