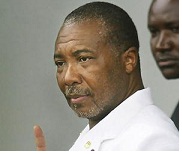 Brenda J Hollis, the Prosecutor for the Special Court of Sierra Leone (SCSL), engaged in the trial of former Liberian President Charles Taylor, has urged in her submission on sentencing, before the Court that Taylor must be sentenced to a term of 80 years in prison, having regard to the severity of the crimes committed by him. The team put forth that he abused his position and authority both as the President of Liberia and as an influential figure in West African politics, including his role in the Sierra Leone peace process.
Earlier, in April 2012, after a trial that lasted five years, the SCSL unanimously found Charles Taylor guilty of aiding and abetting war crimes and crimes against humanity in the neighboring state of Sierra Leone, during the 1996-2002 civil war. He was accused of supporting the Revolutionary United Front (RUF), by providing them with operational and military support, in return of "blood diamonds". He was found guilty of 11 counts of crime which included acts of terrorism, murder, rape, sexual slavery, outrages upon personal dignity, violence to life, health and physical well being of a person and other inhuman treatment, enlisting child soldiers, enslavement and pillage. The Court held that the Prosecution had proved beyond reasonable doubt that there were violations of Article 3 of the Geneva Convention, Additional Protocol II of the Geneva Convention and international humanitarian law.
Many human rights agencies have applauded the findings of the Court and believe that his conviction will be of great significance in West Africa, which has for years suffered under the political instability perpetrated by its many dictators and civil wars. The case has also received much attention as Mr. Taylor is the first Head of State to be convicted by an international Tribunal after the conviction of Karl Dönitz, an admiral who led Nazi Germany after Adolf Hitler's death, during the Nuremberg Trials of 1946.The message sent forth by the Court is quite clear. Leaders can no longer commit violations of international humanitarian norms without paying the price for the same.
In the meantime, Charles Taylor has appealed against the judgment pronounced by the International Court.