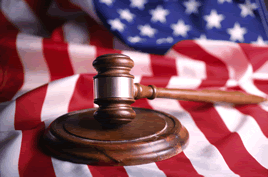 US Supreme Court will hear the appeal concerning the immigration law passed by the state of Arizona targeting illegal immigrants. This divisive immigration law passed by the Arizona state charges local policemen with targeting illegal immigrants has created a lot of controversies.
The law entails that cops must question people they suspect are in illegal immigrants in the US about their immigration status. However, the officers must already be dealing with them in a law enforcement capacity.
The federal government headed by President Barack Obama challenged the Arizona's immigration law on the ground that it encroaches into the federal responsibility. Similar laws of the states of Alabama, Utah and South Carolina have also been challenged.
Arguments are expected to commence in late April, which would give the court around two months to decide the case.
As many as 12 million illegal immigrants are alleged to be residing in the United States, and the issue has by now become a key factor in the 2012 election campaign. Republican Sen. John McCain said in recent times that large Hispanic populations in his domicile state of Arizona and in other places are attentive as to what Republican candidates have to say on immigration.
According to the Arizona state the federal government hasn't been doing enough to quell illegal immigration due to which the states located at the border of the country are suffering inexplicably.
This case comes as a new pre-election challenge for the Obama administration from the Supreme Court after it announced that it will hear the case of Arizona's controversial law targeting illegal immigrants.
This comes as a second blow after the declaration by the court that it will examine the constitutionality of the President's health care law.
Immigration and health care are shaping up to be two of the biggest topics in the presidential race, and the fact that the Supreme Court will be trying the Arizona immigration law only adds validity to the argument.
US Supreme Court to rule on controversial Arizona immigration law
Report by Radhalakshmi R