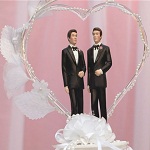 With a popular research results showing 49% Americans to be fine with gay marriages and President Barack Obama becoming the first US president to say same-sex couples should be able to wed, when Washington legalized same-sex weddings, it was party time and an emotional turnout for the gays and lesbians. When hundreds of couples lined up to apply for marriage licenses. History was made and couples were on street, crying with joy. Washington, Maine and Maryland are now the first states to legalize same sex marriages.
Diane Butzberger and Amanda Russ of Tacoma were among the first of 140 couples to get married at Seattle's City Hall on Sunday in a pom-pom ceremony that put even different sex couple's fiesta to shame. With 6 states already favoring the same sex marriages, 31 states have vehemently opposed this and passed constitutional amendments banning same-sex marriages. State laws that state as marriage is between a man and a woman are being set to be reviewed by the Supreme Court. Other complementary laws which have been proposed to change are federal benefits, taxes and immigration policies for the gays.
With couples hurrying to tie vows, the churches are booked for another one month and a handful of King County judges in favor of this huge step will volunteer to wed couples in their courtrooms.
The path to legalization of same sex marriage is a very long and tough one.
"Getting the right to marry feels like a natural extension of something that already existed," said Taga, a lawyer.
With gays going to different gay-friendly countries to get married, this law is a difference to many now. As the news became official, couples who were ready with their hair dressers and bridesmaid gowns, started to crowd city chapels, all five of them with friends and relatives. After vows were exchanged, huge cakes were cut and as the crowd cheered in unison,"congratulations", many couples broke down.
"I don't even have words for this," said Caren Goldenberg of Seattle, who married her partner of seven years, Casey Evans. "It just makes me really proud of my city." Mayor Mike McGinn, who greeted couples at they arrived, called it a "great day, a joyous day."
Some with their relationship waiting to be put on paper, like Nancy Monahan, 57, a retired petty officer with the Coast Guard, waited outside before the weddings began with her partner of 14 years, Deb Needham, 48.both the love birds joined the large wedding at city hall as this was more a day of pride than anything.
The law is not strict and very flexible to everyone's thinking and faith and beliefs. The law is a simpleton law which would not enforce a church to marry gays and lesbians neither would it be a requirement for organizations to
participate. With US entering a new phase, it's time to see how Americans influence the admirer countries further.
Also Read : NZ legal experts conflict human rights commission on gay marriage
Shalini Singh,
Gujarat National Law University,
Gandhinagar, Gujarat