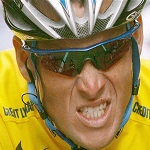 The Australian clothing brand Skins has sued the International Cycling Union (UCI) seeking a compensation of US $2 million in damages caused by the mismanagement in addition with the Lance Armstrong doping scandal and also for alleging that the sport's governing body lacked leadership in the fight against doping.
Skins is an Australian clothing brand which has been a commercial supporter of world cycling from past 5 years. In its latest press release it stated that the UCI President Mr. Pat McQuaid and honorary president for life Mr. Hein Verbruggen are solely responsible for mishandling the situation which led to the crisis situation for Skins. In reaction to this, Skins alleged that there has been a significant loss in the confidence of people which they had earlier gained from the field of professional cycling along with a great fall in the company's international reputation.
Skins chairman, Mr. Jaimie Fuller said that the legal action or move was initiated by them against UCI because of the frustrations it confronted by dealing with the cycling's governing body. Mr. Fuller stated that Mr. Pat McQuaid failed to reply appropriately to the open letter sent to him regarding the explanations he owed to the cropped up situation. He said that the explanation were crucial because it would have given the basis for understanding the situation that existed and helped them to move on with the required changes so as to restore the existing situation back to normal. Mr. Fuller further stated that, they are taking necessary steps to join hands with other sponsor Rabobank.
Lately UCI has come under heavy criticism for mishandling its anti-doping activities in the wake of Lance Armstrong scandal. Lance Armstrong is an American professional road racing cyclist.  He was banned for life and stripped of his seven Tour de France titles after the US Anti-Doping Agency (USADA) published a report claiming that he had used performance-enhancing drugs and organized doping to build his success. On the other hand Skins were the supplier and sponsor for the Lance Armstrong who later felt that their companies' image and brand is being damaging along with its association with a series of commercial cycling partners across the world because of the Armstrong scandal. It needs to be noted that, Skins were the provider of high tech suits to the USA Olympic Cycling team and also for the London Olympics. Further the USADA reports state that the UCI had covered up Armstrong positive test from the 2001 Tour to Switzerland. However the UCI and the laboratory have denied handling of any actions of that sort stating that Armstrong had not failed a dope test in 2001 though later on samples were brought forward as being found suspicious.
Skins sues UCI for covering up for Lance Armstrong
APARNA D. SHENOY
School of Law, Christ University,
Bangalore