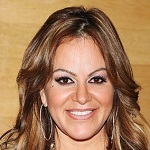 Mexican-American music superstar Jenni Rivera might have been killed in a fateful air crash earlier this day. The US-registered Learjet 25 was supposed to be carrying 6 passengers including Rivera, who was a Mexican American, 43 year old singer who had sold out a staggering 15 million records. Fans have already started mourning her death and praying for her. "My  friend! Why? There is no consolation. God help me!" said Mexican songstress Paulina Rubio on her official Twitter account. According to authorities, nobody has been touted to survive the crash so powerful that remains were scattered over 250 to 300 metres.
Born and raised in Long Beach, California, the singer was famous for Mexican regional style known as grupero music. Reports say that thousands of fans in Monterrey have attended a concert given by Jenni Rivera on Saturday.  After that concert Rivera gave a press conference at night.
She was quoted to say, "I can't get caught up in the negative because that destroys you. Perhaps trying to move away from my problems and focus on the positive is the best I can do. I am a woman like any other and ugly things happen to me like any other woman".
A proud Latina woman who had many years to live for and to rejoice is believed to be dead. Her brother will fly down to Mexico to identify the remains, according to Rivera's mourning father.
Celebrities to die in airplane crashes includes: Randy Rhoads on March 19, 1982, Otis Redding on December 10th, 1967, R&B vocalist and actress,  Aaliyah  died on August 25, 2001,  while on August 27, 1990, Blues guitarist Stevie Ray Vaughan was killed in a helicopter crash. And so many others.
Shalini Singh,
Gujarat National Law University,
Gandhinagar, Gujarat