Pandit Ravi Shankar passed Away – Nation mourns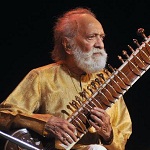 India's most loved and best known musicians, Sitar maestro Ravi Shankar is no more. He was admitted to the Scripps Memorial Hospital in La Jolla, San Diego last Thursday after complaining of breathing difficulties, best known contemporary Indian musician, breathed his last at 4.30 p.m. Pacific Time Tuesday.
He is survived by his wife Sukanya Rajan and daughters Anoushka and Norah Jones. Dubbed the godfather of world music by George Harrison of the Beatles, Ravi Shankar was born in Varanasi, from where he started his awesome journey, fulfilling souls with his charismatic guitar skills. His last concert was particularly poignant.  Anoushka and he played together in perfect unison.  Prime Minister Manmohan Singh in New Delhi on Wednesday described his death as the passing away of an era. Many celebrities and fans tweeted the mournful death. Somebody who had dedicated his whole life to his guitar and entertaining troubled souls by his music, which was soothing, and never-again-to-be-heard kinds, the Bharat Ratna and Grammy winner's death has shocked everybody. May his soul rest in peace.
Shalini Singh,
Gujarat National Law University,
Gandhinagar, Gujarat