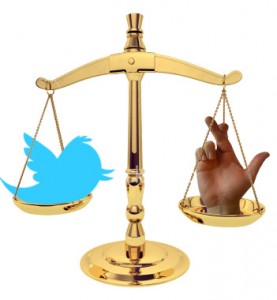 Twitter filed a law suit against its spam enablers including Philippines based JL4 Web Solutions, referred to in the suit as Tweet Attackers, Tennessee-based Skootle Corporation and the individuals James Lucero and Garland Harris, in the Federal Court of San Francisco.
The law suit filed by twitter aims at disabling people  from building spamming tools, like software that latches on to trending topics and starts injecting irrelevant marketing messages into the mix.
In its law suit filed twitter is alleging that its spam enablers are building and distributing web-based applications which help the users to overcome twitters anti spam tools and which will in turn enable them to make mass postings on the site.
According to Performics, there is more spam on twitter than on Google and Facebook. Further according to Twitters spokesman twitter has spent around $700,000 in anti-spam efforts and now the company is taking the spam much seriously. From twitters blog it is clear that their engineers has recently launched new anti spam measures.
According to ethical hackers and cyber experts, in the coming years these social networking sites will witness an increase in attack on them.