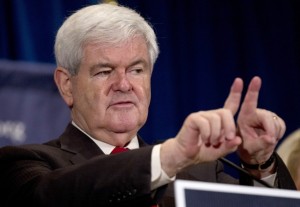 Think Tank, a health care unit, founded by US Presidential Candidate Newt Gingrich has filed for bankruptcy protection in the US Bankruptcy Court in Atlanta.
Gingrich founded Centre for Health Transformation is a high impact collaboration of private and public sector leaders with an objective of creating an intelligent health system which will save life and money of all Americans.
In the bankruptcy protection suit filed, the Center for Health Transformation founded by Gingrich in the year 2003 has posted its debts to be more than $10 million and its assets to be less than $ 100, 0000.
The company's documents points out that the members of the company paid as much as $200,000 a year.
According to Stefan Passantino the legal counsel of Gingrich the bankruptcy suit filed by CHT showed the public how vital Gingrich's leadership was to center.
The former House speaker founded Gingrich groups creditors include Gingrich, his wife, Callista, their film company Gingrich Productions, Aflac, the polling agency Gallup, Merck, UPS and Passantino's, McKenna Long & Aldridge.
Navanitha Warrier,
Kerala Law Academy