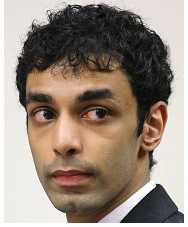 Was it a teenage prank or something more hateful? Dharun Ravi the student of Indian origin who was found guilty of bias intimidation for spying on his roommates sexual encounter has requested the court to give him probation rather than a jail sentence.
Dharun Ravi is set to be sentenced on the 21st of May and faces up to 10 years imprisonment followed by deportation to his native India. This case has garnered a lot of attention and interest from the world in general and the United States in particular. The victim of this prank or hate crime committed suicide creating a furore among gay rights activists who find  this kind of  bullying clearly intended because of the victim's sexuality. However it is important to note that there have been opinions pointing out the contrary to. Many feel that it was a prank that went horribly wrong. It was more to show his friends of what a computer genius he was. Many feel that he has been unfairly demonized.
As his sentencing date nears, Ravi's lawyers Steven Altman and Philip Nettl have increased their efforts to get his conviction either overturned or instead try to get his sentence to a probation whereby he wouldn't be sent to jail or deported back to India.  They stated that a sentencing of that magnitude meant serious injustice to Ravi.
Following a long trial in March, Ravi was found guilty on bias intimidation and invasion of privacy charges for using a webcam and spying on his Rutgers University roommate Tyler Clementi. Tyler committed suicide in September 2010. Many described his actions careless and not malicious with intent to cause extreme harm. His parents and his friends have stated that the way the media has portrayed has been extremely unfair.